Published: Tuesday, May 01, 2012 03:58 PM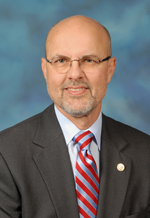 Earlier today, an important legislative commission unanimously voted down Governor Pat Quinn's proposal to close the Peoria Adult Transition Center.
"I was very pleased with the commission's decision," said State Senator Dave Koehler (D-Peoria). "When we had the hearing in Peoria, everyone in the community testified about how important the Peoria halfway house is. It really does help people return to productive lives in the community after they've served their time. I'm glad the commission was convinced by our message."
Under state law, the bipartisan, bicameral Commission on Government Forecasting and Accountability (CoGFA) must vote to accept or reject the governor's recommendation to close state service centers. Though their vote is not legally binding, no governor has ever closed a facility over the commission's objection. The governor's plan called for closing all but one adult transition center.
"Halfway houses are an important part of the Illinois' corrections system," Koehler said. "I believe that in the end they save money by helping former inmates reintegrate into society. They reduce recidivism rates and keep people out of our overcrowded prisons. They also help former inmates overcome drug addictions and other obstacles that might keep them from becoming working, contributing residents of Illinois."
Category: Press Releases