Published: Thursday, December 05, 2013 10:47 AM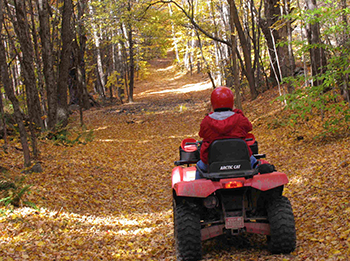 PEORIA – Owners of all-terrain vehicles will be protected when using their vehicles on private property under a new law proposed by State Senator Dave Koehler (D-Peoria), chair of the Senate Agriculture Committee.
In 2012, the Illinois General Assembly passed a law to help finance the Department of Natural Resources through a series of new and expanded fees – part of an effort to keep the desperately underfunded agency afloat. However, after hearing from a number of ATV owners who believe the fees for all-terrain vehicles are unfair, Koehler began working with DNR to find a solution that ensures the agency gets the funding it needs while ATV owners get a better deal.
"The Department of Natural Resources plays a vital role in keeping state parks and wildlife areas open for Illinois families, and we need to make sure it has adequate funding," Koehler said. "But the 2012 law asked too much of ATV owners. We need to fix this problem."
The flawed 2012 law failed to differentiate between golf carts, vehicles used by people with disabilities and ATVs used in state and local parks and preserves. It also charged a flat fee for all ATVs, failing to differentiate between adult ATVs and vehicles used by children.
Koehler's plan (Senate Bill 2633) cuts the current $15 registration fee down to $10 for vehicles with smaller than 75 cc engines (normally used by children). It also provides clear exemptions for golf carts, vehicles for people with disabilities, ATVs used by governments and ATVs used by farmers. It clarifies that ATVs used only on a family's own property are also exempt, as are vehicles used only in ATV competitions.
In addition, DNR has pledged to use much of the money raised by the new fee to develop and maintain ATV trails on state property. This new money allows the agency to qualify for hundreds of thousands of dollars in federal matching funds.
"When ATV owners pay these fees, they should get something out of it," Koehler said. "New, improved, better maintained ATV trails will be a great family-friendly resource that should help raise the profile of Illinois' state parks."
Category: Press Releases