Published: Wednesday, March 05, 2014 03:49 PM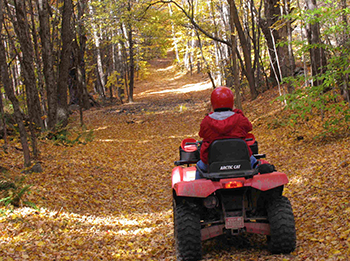 SPRINGFIELD – ATV owners would be protected when using their vehicles on private property under a plan that passed the Illinois Senate today.
In 2012, the Illinois General Assembly passed a law to help finance the Department of Natural Resources through a series of new and expanded fees – part of an effort to keep the desperately underfunded agency afloat. However, after hearing from a number of ATV owners who believe the fees for all-terrain vehicles are unfair, Senator Dave Koehler (D-Peoria) began working with DNR to find a solution that ensures the agency gets the funding it needs, while ATV owners get a better deal.
"When ATV owners came to me with this issue, I saw that they had some good, constructive criticism of the ATV fee law," Koehler said. "I wanted to work with them to fix it."
The flawed 2012 law failed to differentiate between golf carts, vehicles used by people with disabilities and ATVs used in state and local parks and preserves. It also charged a flat fee for all ATVs, failing to differentiate between adult ATVs and vehicles used by children.
Koehler's plan (Senate Bill 2633) cuts the current $15 registration fee down to $10 for vehicles with smaller than 75 cc engines (normally used by children). It also provides clear exemptions for golf carts, vehicles for people with disabilities, ATVs used by governments and ATVs used by farmers. It clarifies that ATVs used only on a family's own property are also exempt, as are vehicles used only in ATV competitions.
In addition, DNR has pledged to use much of the money raised by the new fee to develop and maintain ATV trails on state property. This new money allows the agency to qualify for hundreds of thousands of dollars in federal matching funds.
"For years, we've been struggling just to keep state parks open and perform basic maintenance," Koehler said. "It's exciting to see the Department of Natural Resources start building ATV trails to provide even more opportunities for Illinois nature lovers."
The legislation now goes to the Illinois House of Representatives for further consideration.
Category: Press Releases