Published: Wednesday, June 19, 2013 09:24 AM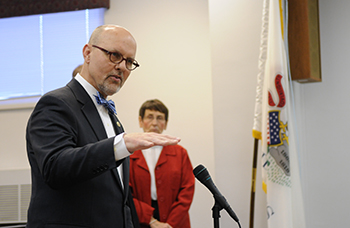 SPRINGFIELD – The first of a series of hearings on State Senator Dave Koehler's (D-Peoria) proposal to label genetically engineered food is scheduled for Thursday in Bloomington-Normal.
The hearing is open to the public. Anyone who wishes to submit testimony should file a witness slip online at my.ilga.gov or in person the day of the hearing. Due to time constraints, Koehler is limiting spoken testimony to two panels – one of supporters of the legislation and the other of opponents. Each panel will consist of four people and have up to one hour to present its position. Everyone else who wishes to testify is asked to submit comments in writing.
Date: June 20, 2013
Time: 10 a.m. to noon
Location: Old Main Room, Bone Student Center, Illinois State University, 100 N. University St., Normal
For more information: Sen. Koehler's district office (309) 677-0120 or Springfield office (217) 782-8250
Additional hearings are planned for Carbondale in August and Chicago in September.
Category: News