Published: Friday, September 17, 2021 12:00 PM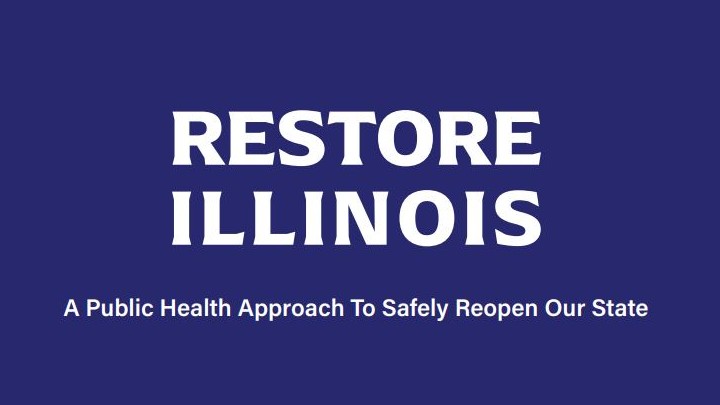 Through the Restore Illinois plan, many resources are available to families and communities across Illinois in an effort to help the state recover from the COVID-19 crisis. Please read below to learn about ongoing recovery efforts, including support for impacted businesses, local communities and units of government, and support for local residents for workforce training and rental assistance.
Economic Recovery
Back to Business Grants
The Back to Business program will distribute grants to promote recovery for small businesses hit hardest by the COVID-19 pandemic. To be eligible, businesses must have had revenues below $20 million in 2019 (below $35 million for hotels) and a reduction in revenue in 2020 due to COVID-19. Priority will be given to businesses in the hardest-hit sectors, business located in Disproportionately Impacted Areas, and businesses that have not yet received COVID-related state or federal assistance. Applications opened on August 18th. Businesses looking to apply or obtain additional information, may refer to the Back to Business page of the DCEO web site.
Rebuild Downtowns & Main Streets Grants
Rebuild Downtowns & Main Streets will provide capital grants to support economic recovery in downtowns that have experienced disinvestment, particularly in communities hardest-hit by COVID-19. Private businesses, nonprofit organizations, and local units of government are eligible to apply. Applications opened on September 10th and will close on January 10th. To apply or obtain more information, see the Notice of Funding Opportunity on DCEO's web site.
Community Navigators
The Community Navigator program leverages 100+ community partners to help small businesses connect with emergency resources during the pandemic by investing in grassroots, community-based organizations. The program meets businesses where they are, providing tools and resources to help them apply for programs and assisting them to access to additional business support services. More information, as well as a search tool to find a community navigator near you, is available at the DCEO website.
Tourism Attractions & Festivals Grants
The Tourism Attraction and Festivals Grant program will help develop new or enhance existing tourism attractions located across the state. Eligible applicants include units of local government and not-for-profit and for-profit organizations. Funds may be utilized for capital projects, equipment, training, transportation, housing, receptions, entertainment, photography, and interpretive programs. Applications will be accepted on a rolling basis until funds are depleted. For more information, please see the Notice of Funding Opportunity.
Local Government Support
Local CURE
Through the Local CURE program, the Department of Commerce and Economic Opportunity has had the authority to cover costs incurred by local governments for emergency COVID-19 related expenses. Initially designed to cover eligible expenses from March 2020 through December 2020, the program has been extended to encompass expenditures through December 31, 2021. Program participants must submit reimbursement requests through https://dceocures.powerappsportals.com/. For additional information, you can review the Program Manual, visit the Local CURE Reporting Portal FAQs, or contact the Local CURE Support Team either through the Portal Help Desk or via email at This email address is being protected from spambots. You need JavaScript enabled to view it..
Non-Entitlement Units
The American Rescue Plan Act of 2021 appropriated funding to States for distribution to non-entitlement units of local government. Funds can be used to cover revenue losses and the costs of responding to the COVID-19 public health emergency or to its negative economic impact. The full list of elegible municipalities and allotments can be found here. To assist local governments as they claim their allotments, the State of Illinois has established The NEU Portal. Authorized representatives from each NEU can log into the portal, request their allotment and download all the required Treasury documentation. The NEU portal will close September 30th. Per Treasury guidance, NEUs that do not claim their allotments by that time will lose their allotments, which will be distributed to other NEUs as soon as early October. Information on NEU payments can be found on DCEO's NEU site, including the payment status of specific local governments.
Housing and Humanitarian Assistance
Rental Assistance Program
The Rental Assistance Program, offered by the Illinois Department of Human Services through local community agency partners, is intended to keep families stably housed and prevent high incidents of evictions due to COVID-19. Illinois renters may be eligible for assistance if the tenant has experienced financial hardship due to the pandemic, is behind on rent and/or is at risk of experiencing homelessness or housing instability, and qualifies as low income. To apply, residents can visit https://www.illinoisrentalassistance.org/providers, find a provider nearby, and contact them. The provider will help residents determine eligibility and will help to submit an application.
Category: News