Published: Friday, February 15, 2013 03:47 PM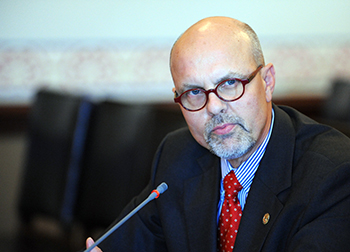 SPRINGFIELD – Illinois has nearly 2,000 miles of cast- and wrought-iron gas mains – many more than 60 years old. The federal government has identified these aging gas lines as a major public safety risk and issued a call to action to replace them as soon as possible.
"Illinois' aging gas lines are a real public safety hazard," said State Senator Dave Koehler (D-Peoria). "And it's only going to get worse the longer we go without replacing them. Today, I've taken the first step by proposing legislation that will give gas distributors the tools they need to begin upgrading Illinois' pipelines."
According to the U.S. Department of Transportation, Illinois had 27 gas incidents caused by old, substandard gas lines between 2002 and 2011. Though the state had no fatalities, there were several injuries and more than $7 million in property damage during this time period.
"Replacing crumbling gas lines will also create thousands of jobs and help protect the environment by preventing underground gas leaks," Koehler added. "The time to do this is now, while natural gas prices are low."
Koehler's legislation, Senate Bill 1665, will make it easier for gas distributors to recover the cost of natural gas pipeline upgrades, making Illinois more competitive with neighboring states like Indiana, Missouri and Kentucky, which already have similar laws. It also enables gas companies to move gas meters to the outside of buildings and install modern tracking technology, reducing the need for manual meter readings and cutting customer costs. Outdoor meters make it easier for firefighters to shut off gas mains during emergencies.
The Illinois Commerce Commission keeps its strong oversight and review powers under the Gas Upgrade plan and gains new authority to penalize gas distribution companies if they don't meet annual performance and transparency goals.
Category: Latest